The grading system is designed to help you in making your right decision, before booking your trip. Please read carefully the description of the tour, its rating and what is that means and be sure that you won't overestimate your abilities.
Grading System For Hiking, Trekking and Backpacking Tours (in accordance with Swiss-SAC Hiking Scale)
Path/Terrain
Requirements
T1
Hiking
Path well beaten and marked, terrain flat or moderately inclined, no danger of falling.
None. Suitable also for sport shoes. Orienting without problem, in principle also without a map.
T2
Mountain hiking
A continuous path, generally marked, terrain in sections steep, danger of falling not excluded.
Requires a safe step. Trekking shoes recommended. Basic orientation skills required.
T3
Demanding mountain hiking
Trail not necessarilly visible, exposed passages can be protected with cables, to maintain equilibrium one eventually needs hands, usually marked, a danger of falling on exposed passages, gravel slopes, pathless rock slopes.
A very safe step. Good trekking shoes. Orientation skills required constantly. Elementary alpine experiences.
T4
Alpine hiking
Trail not present, on some places hands are needed to advance, terrain already quite exposed, tricky grassy slopes, steep rocky slopes, easy snow slopes or bare glacier passages.
Experiences with exposed terrain. Stable trekking shoes. Ability of terrain assessment. Good orientation abilities. Alpine experiences. If weather deteriorates, escape can become difficult.
T5
Demanding alpine hiking
Pathless, exposed and difficult terrain, on some places easy climbing sections, steep scramble terrain, snow fields or bare glacier passages where there's danger of sliding.
Mountaineering shoes. Reliable assessment of terrain. Very good orientation abilities. A lot of alpine experiences. Easy climbing skills. Elementary skills of handling with rope and ice pick.
T6
Difficult alpine hiking
Pathless, not marked, very exposed and difficult terrain. Climbing passages up to UIAA degree II. Tricky, steep rocky terrain, glacier with a higher danger of sliding.
Excellent orientation abilities, mature alpine experiences and mastering of handling with alpine gear.
Grading System for Via Ferrata routes (in accordance with UIAA, the Italian scale has been adopted as international standard)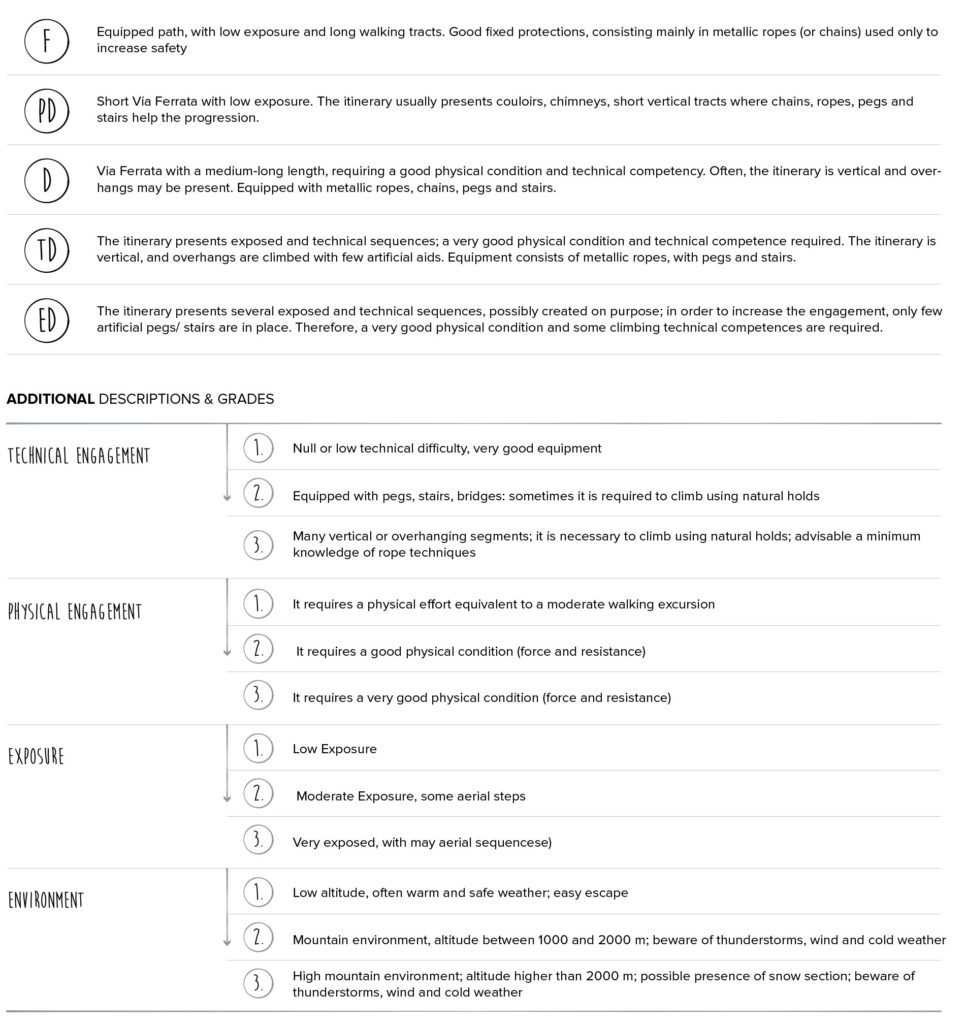 Grading System for Snowshoeing Tours
Introductory. Full instruction is given on snowshoe technique and equipment. Designed for those who have done little or no snowshoeing, but who take regular exercise and have a reasonable level of fitness. This is ideal for walkers who want to explore the mountains in winter. Expect to walk on a variety of terrain from flat to undulating, on and off the beaten tracks. Expect to walk for up to 4-6 hours a day.
Intermediate. Suitable for most summer mountain-walkers, but generally involving longer days at a moderate altitude (up to 1,800m). Routes taken are mainly off the beaten track. A good level of fitness is required as these trips can involve considerable amounts of ascent and descent and the occasional difficult day. Expect to walk 5-7 hours per day.
Advanced. These holidays are very physically challenging and are suitable for regular mountain-walkers who are used to extended days. These treks can involve difficult and sometimes demanding days, as well as lengthy periods at higher altitudes(up to 2,500m). A high level of fitness and previous snowshoeing experience is essential. Expect to be walking 5-7 hours per day with the occasional longer day.