Parcurgerea Munții Făgăraș-Traseul de creastă este dificilă și solicitantă, fiind potrivită persoanelor bine pregătite fizic, având un antrenament corespunzător și experință anterioară în mersul pe munte (condiție obligatorie pentru a finaliza tot programul). Întrucât vom petrece toate nopțile la cabane montane, va trebui să ne concentrăm pentru a termina fiecare etapă în timp util.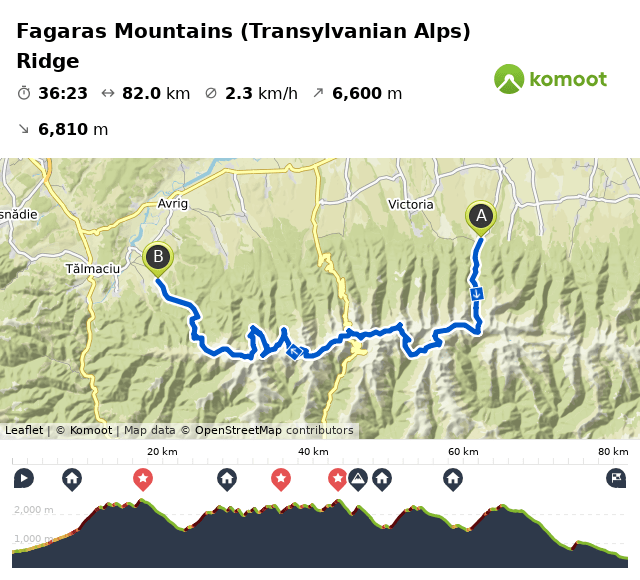 Fagaras Mountains, known also as Transylvanian Alps, are the highest mountains within the Romanian Carpathians. They are oriented East-West and their length is about 70 km. Here you'll find 8 peaks with elevations over 2500 m, 42 peaks with elevations over 2400 m and other 150 peaks over 2300 m.
Înainte de a vă rezerva locul, vă invit să faceți o evaluare realistă a capacităților dumneavoastră (fizice și mentale). De asemenea, vă rog să citiți Sistemul de evaluare a dificultații traseelor , respectiv Termeni și Condiții.
This tour is an excellent training (and challenge) for the hikers who intend bagging some high and very high altitude mountains:
Prezentare
Traseul și durata activităților pot fi modificate ca urmare a abilităților membrilor grupului, preferințelor acestora, ori a condițiilor meteorologice nefavorabile.
INFORMAȚII IMPORTANTE:
Durata turei: 7 zile
Grup format din: 4-8 persoane
Specialty Category: Hiking&Trekking
Dificultate:

Traseu dificil

Perioada de desfășurare: Iulie-Octombrie
Transfer aerian inclus: Nu
Tur personalizabil: Da
Costul menționat (270€) este calculat pentru un grup format din 8 persoane.